Ok so it's been a week since I was actually
in
Phnom Penh, but better late than never right?
I missed Andre's message in the morning since I was sleeping off a hangover, so instead of catching the bus with him I got my own sleeper bus overnight. This is what the "beds" look like.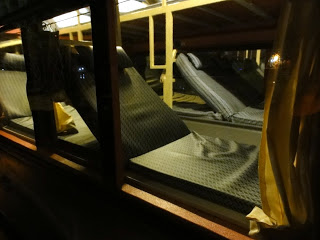 The sleeper buses were not designed with a 6′ tall man in mind.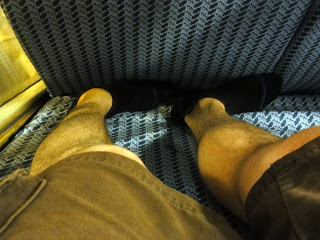 This is literally all the room I had. My feet were crammed up into the back of the person in front of me. Bet they enjoyed me rolling around at night and grinding into their lower back…. They didn't provide blankets which was unexpected, so I took the curtain off the window beside me and wrapped up.
After a very painful and evasive sleep, I arrived in the beautiful city of Phnom Penh. Well, not really. Compared to Siem Reap this place was quite a letdown. It's massive, cramped, dusty, unfriendly, and every street looks the same. Every 5 metres you walk there's another guy asking "Tuk tuk?", and the various hawkers, touts, and shop assistants were so much ruder than the ones I met in Siem Reap.
It really didn't improve my impression of the place when I almost had my passport stolen at the first guesthouse I tried to stay at.
I already had a place to stay in mind when I got off the bus at 6am. I stepped into a crowd of about 20 tuktuk drivers all yelling and pushing and trying to get our business. I knew where I was walking to, so I just politely ignored them while I waited for my bag to be unloaded. I'm standing there staring into the middle-distance while three guys stand on either side of me constantly asking where I'm going and offering their services. Polite refusals do not deter these professionals. I pull out my book and start reading, and still this does not sway them. Surely if they just keep asking, I must eventually see what a mistake I was making by not enlisting their services…..
The hostel I was planning on ends up being just a 5 minute walk away. But when I get there, it's full!! This is the first place that's been even remotely full in low season. No matter, I decide to just walk around and find another place. Turns out there are a ton of guesthouses down by the river, so I just pick one at random and walk in. This is when the trouble starts. I look at the room, it looks nice, so I decide to take it. I've given my passport to the guy for him to take a photocopy (this is standard practice everywhere I've been), but when I pull out my wallet to pay I realise I forgot to get some more cash out. Not a problem methinks, just a short trip to the ATM. If I could just have my passport back…? The guy refuses to give it back until I get cash out. This is not standard practice, this is dodgy as hell. What starts as a polite request develops into a full blown argument. The tuktuk driver comes in to take the guesthouse guy's side. He calls his boss who comes in as well. Now I have three angry Cambodians yelling at me for some imagined crime of wanting to hold onto my own passport.
It takes $5 to get it back. Lesson learnt. No one is ever holding my passport again. If they want to see it, they can look at it in my hands, no exceptions.