I arrived in Nanning with another backpacker in tow – a Russian guy by the name of Mark who had missed his transfer to Guilin and had to spend the night in Nanning. He accepted my offer to guide him to no doubt the finest hostel in all of China, and dutifully trundled behind me, lugging his three backpacks. Apparently he wasn't aware that temperatues in China were not the same as the deep snows of Russia, and had bought his entire winter wardrobe just in case. In any event the hostel was only a kilometre away (a mere dawdle for a man with a single 8kg backpack), so we set off.
We stopped twice on the way to refuel, my swarthy Russian companion needing more than the sight of gray skies and endless construction to sustain him, and eventually arrived at the Green Forest Hostel.
This is the best hostel I have ever seen.
It was phenomenal.
There is an enormous front room with multiple tables, comfortable couches, pool table, bar, power sockets next to every seat and in every country's configuration. The dorms were spotless, as if they'd been only painted yesterday. The beds had the softest, thickest pillows I've seen on any trip, and possibly in my life. If that wasn't enough, the showers had the overhead "waterfall" type shower heads – a luxury I have only once before experienced, and that was in a 2 million dong a night palace in Nha Trang. And the most amazing part of all – the entire place is constructed out of recycled building materials in a direct affront to the building practices of the Chinese government, lending it a haphazard and entirely beautiful atmosphere.
I never wanted to leave.
It didn't help that the rest of the city was entirely gray and depressing, but I could have stayed in that hostel for the forseeable future, and perhaps simply moved in, got a job, married, and raised kids there. Like the children born in San Pedro prison, we would simply live out our lives within its walls, needing nothing else but free wifi, a VPN connection through the Great Firewall of China, and as many showers as one could fit in a day.
It didn't help one bit that the staff working there were fantastic. The girl working the front desk was named Elaine, had excellent English, and was the most helpful hostel staff member I have met on my trip so far. After check-in and a glorious shower, she sat down with me and thoughtfully planned out the next few weeks of my trip with me. She gave me a whole bunch of options for work in China, including some live music bars where I could get a job playing bass. Now if I could manage to make that happen, I could easily see the entire two months of my visa slipping away without so much as a single sight being seen.
After working on a plan for my trip, she offered to take me on a tour of the city the next day. If this is the service I should be expecting in China, then I am really looking forward to a great couple of months!
I spent a delightful rest of the evening creating my own VPN on my server in the UK and circumventing the Chinese government's plan to thwart my Facebook stalking. I don't quite think they realise how many people I've met so far on this trip and how much time this level of stalking actually takes.
—-
The next day I had a wonderful breakfast of point-and-hope at a little restaurant across the street. It only cost a dollar and tasted fantastic and I have no idea what it was. I went back to the hostel, congratulated myself yet again for my incredible I.T. skills, and set off for my tour of the city.
It was just as gray and featureless as the day before, but far more interesting with a local guide. We jumped on a bus to the lake in the middle of the city, and along the way Elaine pointed out all the interesting sights. There were three. A science museum, an enormous Bank of Agriculture, and then miles upon miles of apartment buildings. Even the bank had apartments from the fifth floor up. The entire city seems to be constructed entirely of apartment blocks interspersed quite frequently with McDonalds and KFC.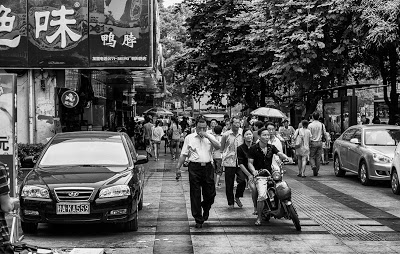 Even grey cities look better in black & white
The lake (although gray) was set in the middle of a gorgeous park, quite unlike the utilitarian decor of the rest of the city. The main activity here seemed to be flying these enormous A wing kites, and competing with the gentleman next to you to see who could get their kite the closest to the stratosphere. This was not a sport for amatuers. For one thing, there is no wind at ground level. It evidently required a great deal of skill to get past the windbreak of the surrounding ring of apartment buildings and up into the acctual airstream. And secondly, these were not mere kites on a spool of string, oh no. Everyone had these elaborate harnesses strapped onto their chests with great reels of (no doubt high-tensile carbon nanotube) string, along with various guages, dials, wind-speed monitors, cup-holders, sonar readouts, geiger counters, and so on.
As I said, not a sport for amateurs. I saw a small child attempt to take part in the fun, only to be turned away by a very stern word from his father, no doubt the local chapter president for the Serious Urban Kite Flyers of China.
We continued on through the park down to the lake. Imagine a sky of the purest gray. Then a ring of gray apartment buildings as far as the eye can see, dotted with cranes building even more gray apartment buildings. Finally, reflect the whole lot in a brown lake awash with sudsy bubbles. Picturesque. There were even fish in the lake, you could see them jumping at intervals, no doubt trying their hardest to escape. We sat on the steps and chatted about life in general while the oily waves lapped at our feet.
Eventually we got a move on, and headed for dinner. Elaine had arranged to meet up with another guy from the hostel and treat us both to a fantastic meal of frog and vegetables. The restaurant was a very cool affair: each table had its own gas ring in the center, and the food was half cooked in the kitchen, and then you did the remainder yourself. The beer was cheap and excellent and I recieved great kudos for opening the first beer with the second, and then later on the second with the empty first. Thank you New Zealand, a good drinking eductaion comes in handy sometimes.
In case you were interested, frog tastes like chicken. The designers of the Matrix really got quite lazy I think.