Somehow instead of the one bus I was meant to take to the border, I end up taking four and still don't make it……. Why am I destined to fail at every border crossing?!
I thought my transition out of Nepal to India would be relatively painless. All I had to do was catch a bus to the border and walk across, in time to catch the public bus to Gorakhpur, and then a train on to Varanasi. Simple right? Well I'm still on the Nepal side of the border and it only took me 4 buses, a taxi, and an extra 5 hours.
I bought a ticket on a decent looking night bus from Kathmandu to the Nepali border town of Bhairahawa. Unfortunately the intercity overnight buses leave from the New Bus Park which is about 30 minutes away from where I was staying. I head to the microbus stop to wait for a minivan. After about 15 minutes of me yelling "New Bus Park?" to every passing van, someone politely taps me on the shoulder and tells me I'm at the wrong bus stop – I need to be down that side street over there. Thanks very much, helpful stranger. 🙂
Quick position change, and I'm standing in the correct bus stop, yelling at every passing van. After about 10 minutes of this, someone politely taps me on the shoulder and tells me that I'm at the wrong bus stop – I need to be back exactly where I was originally! Since my bus departure was rapidly approaching I decide to just grab a taxi. It turned out to be only double the price of the van ticket, so was actually an incredible deal. I get to the bus station with about half an hour to spare and I'm greeted by this sunset: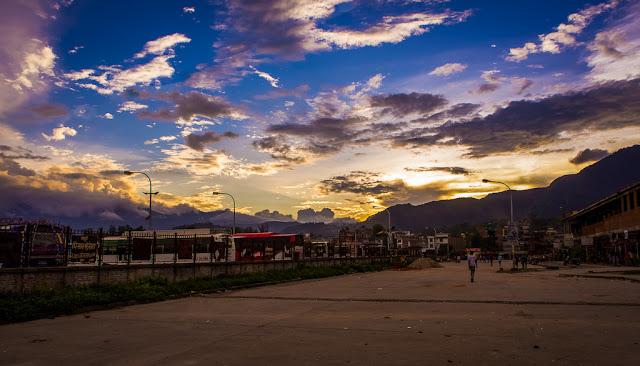 New Bus Park, Kathmandu, Nepal
Nepal, I will definitely miss you.
The tour agency left me specific instructions to go straight to counter 16 and talk to Shiva, and he would sort me out and make sure I get to the right bus. I of course go straight to counter 28 and talk to some complete random who happily takes my fancy-bus ticket, and swaps it for the cheapest possible bus and somehow pockets the difference in price. Naturally this is not my fault at all, as all the counter numbers are in Nepali and are also very small and hard to read. Also I was tired. And the sun was in my eyes. So, cue Bus #2…
Outside there are about 20 buses all heading to Bhairahawa, but I manage to find my new one and find my seat. We're scheduled to leave at 7pm, so the driver arrives around 8pm and we leave shortly after. About 2am we break down. We all file out and stand around on the side of the road in a sleepy daze, waiting for Bus #3. Eventually another completely full bus comes past and we all pile onto it and stand in the aisle. Around 3am we come to another grinding halt.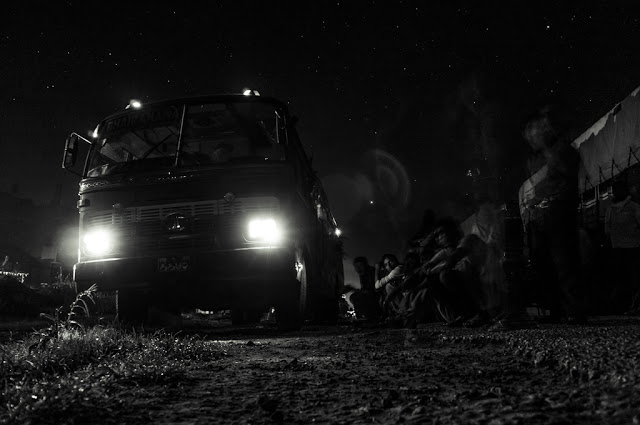 It turns out that a bridge up ahead has fallen apart, and so instead of the nice double-laned highway we were expecting, there is a single dirt road through a river, and there is a huge queue of trucks and buses waiting to get through. We sit here for a good couple of hours before we start moving, and then slowly make our way forward.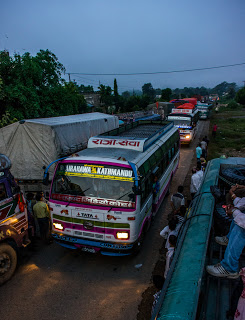 After we get through things are pretty smooth sailing. I've managed to wedge myself into a sort of seated position between some bags and start to nod off. About 20km from Bhairahawa we come to another stop, and for no reason that I can discern, we all file off Bus #3 and onto an almost identical Bus #4. Finally, 5 hours after our intended arrival time, we limp gloriously into the transport station at Bhairahawa. At this point I'm cutting it a bit fine for time, but more importantly I'm pretty tired, so I just get a hotel room next to the station.
Tomorrow. Tomorrow I will make it to India. I am now walking distance from the border, nothing will stop me!!!