So many photos in this one, but India is amazing!!!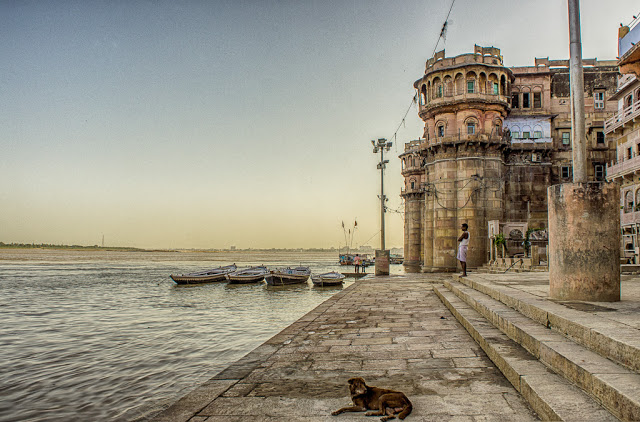 Dusk on the Ganges
That was the easiest border crossing ever. And I have been having the worst luck so far, so it was nice for everything to go right for a change! Nepal was incredibly easy going but things still went wrong, I think this is the first time that I've actually got through without a single hitch.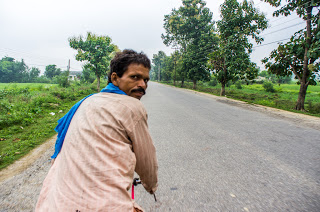 I love driving my rickshaw!
I left early in the morning with a soft fog covering the countryside. There were a bunch of rickshaws right outside my hotel so I jumped on the first one and off we went. I was thinking of walking but I'm glad I didn't – it turned out to be a lot further than I thought. When I got to the border, there was a nicely labeled Nepal Immigration Office. Unlike Cambodia, this was actually the official office, so I got my exit stamp and headed for India. I have to say, the border town was pretty similar to everything I'd seen in Nepal, but I was already liking it better. When I got close to the Customs Office, a bunch of friendly locals all pointed me in that direction. Again, no scam. Just a completely legitimate visa office.
The government bus
The guy took a look, signed all the documents, and I was away. He even pointed me in the right direction for the government bus to Gorakhpur. I was looking for a white bus with blue stripe, and just as all the shared-taxi touts descended, I saw the bus up ahead, just about to start pulling away from the curb. Again, a huge crowd of locals waved me towards it with big smiles, and the driver even leaned out the window to wave me onwards. The timing couldn't have been better, I just walked up the steps and we took off.
At Gorakhpur was my first hassle. My bus arrived next to the train station so I went in to buy a ticket. I would have bought one online, but you have to have an Indian phone number to do it, and you can't buy an Indian sim unless you're in India. (Ok, I didn't actually check to see if you can't buy one in Nepal.) At the station I went up to the only ticket window I could see, which turned out to be the one that only sells the "Unreserved" types of ticket. This is the cheapest possible way to travel in India, but means you don't have an actual seat so you have to fight the crowds for your right to one. I didn't know this at the time, but the 61 rupee fee for a 6 hour journey was a bit of a giveaway. The other annoying thing is that the tickets don't have the departure time or platform number or anything useful like that. And as it turned out no one even checked I had a ticket, so I needn't have bought one.
After my purchase I remembered reading horror stories of the painful wooden seats and cramped conditions in the Unreserved Seating carriages, so I decided to try and buy a sleeper ticket instead (only 125 rupees, so not a huge extra fee). This is what I tried to accomplish this:
Bought 30 minutes at an internet cafe to buy a ticket online. Realised as I was trying to sign up that I needed an Indian sim card, and that's why I hadn't booked a ticket in Nepal.
Bought Indian sim card.
Bought another 30 minutes and tried for 30 unsuccessful minutes to purchase a ticket using the India Rail booking system. By this time, the 125 rupee sleeper class was sold out, and my only option were the 14 remaining tickets in A/C third class, at 340 rupees.
Went to the station to try booking the ticket there. Was told that they were all sold out, even though minutes ago there were 14 left.
Went back to the internet cafe to prove them wrong. Still can't book and find out that it's because I have an overseas credit card. There are however agents that will do it for you, notably Cleartrip.
Just as I'm signing up with them, the ADSL goes out at the internet cafe and they tell me that it will be out for the next few hours.
I accept that it's not going to happen and go to wait at the station, fully dreading the awful.
At the station I realise that I could get onto the internet using my phone!! I log onto Cleartrip and my phone stops working.
About this time I realise that perhaps the universe is trying to send me an extremely clear signal that I should just stay on the unreserved carriage. After all, buy the ticket, take the ride! So that's what I do.
As it turned out, the unreserved carriage was awesome!! I got talking to a great group of local guys my age and sat with them the whole time. There were people coming in and selling all sorts of crazy foods and my local friends educated me on what they all were. Some guy came in at one point who looked exactly like Captain Hook when he loses his wig, and started telling stories that captivated the entire carriage. One of my guys was doing a running translation for me the whole time. People had their cellphones out with Indian music rocking, and some 28 year old named Sanji had a long and meaningful conversation with me about why Justin Bieber was his favourite singer, and probably the greatest singer of all time.
In short, it was a hell of a lot of fun and I fully recommend it. 🙂
At Varanasi, I had booked myself a bed in a 48-bed dorm. By far the biggest dorm I've ever stayed in, and a pretty cool experience. I was the only backpacker, so I asked the guys at the desk who were the usual clientele. Indian businessmen from other cities who were staying a couple of days in Varanasi on business. Cool!
In the morning I just went for a random wander on the streets. Of course there was a huge parade with horses and elephants right through the middle of town. Why wouldn't there be!!
There are a bunch of ghats leading down to the Ganges, some of them extremely populated with tourists and people selling boat rides to tourists, but as night was falling I managed to find my way to a more local spot and got some great photos. It was really beautiful and I can see the allure of the river, but I definitely wouldn't want to swim in it….
On the way back I walked past the Manikarnika Ghat, which is the most famous cremation site in Varanasi. I'm not sure what I was expecting, but it was amazingly normal and not at all disturbing or macabre.
Hindus believe that if you die in Varanasi, you are guaranteed release from the birth and rebirth cycle, a fact I didn't know and now it all makes a lot more sense. People from all over the country come to Varanasi to live out their days so that they can die here and be cremated. I talked to a few old ladies who were living near the Manikarnika Ghat, and they were so happy for the chance to be able to come here and find their way to Nirvana.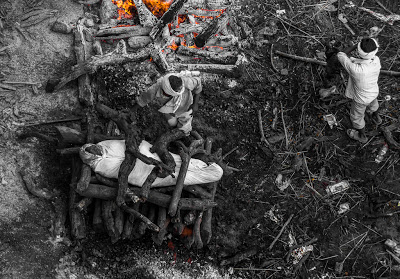 As Mark Twain said, the city is older than history, older than tradition, older even than legend and looks twice as old as all of them put together. I absolutely love it here. Even the view from the top of my hotel was amazing: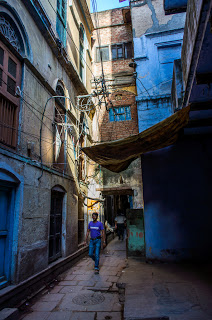 Easy to get lost in these alleyways…
The next morning I got up really early and headed for the ghats to catch the sunrise. I got up at 5am and when I walked outside the sky was already light. CRAP. I hustled and got to the super busy tourist ghat. Not the most ideal of photograph locations. There's no easy way to get from one ghat to the next if you don't know the alleyways, so I just decided to inch around the brick wall bordering the river. Prooooobably not a smart idea, especially as I was carrying my camera. Oh, and the fact that the Ganges is some of the uncleanest water in the world…. All the boat guys were yelling at me that I was going to fall in, but no problems, I made it around another two ghats, and found a place where the locals were doing their morning rituals, far from the tourist eye. Well, except all the boats filled with tourists I guess. And also me, yet another tourist….
But still, the sun was huge over the river, and it was amazing to see what is a daily ritual for millions of Indians.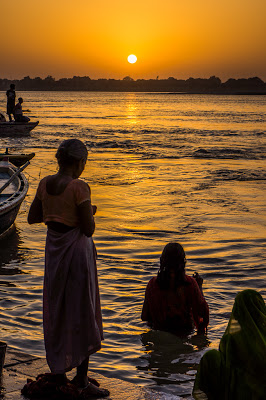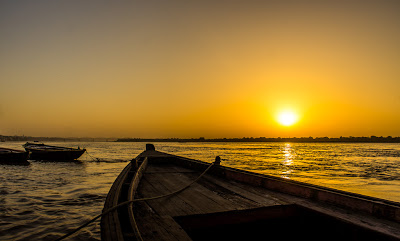 This city has been incredible and a amazing start to this country. Now I've got a train ticket booked for Jhansi and no destination in mind – just to get lost in the middle of India. 🙂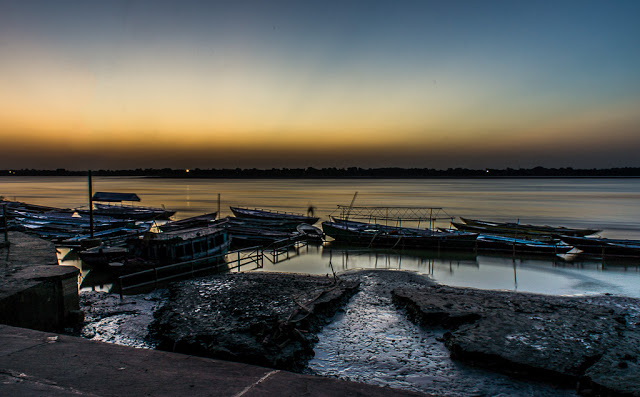 Early morning on the Ganges