I've been in India for almost four months now, and I've eaten meat the whole time, drank the local water in Goa, and not been sick once. I finally arrived in Delhi, and one accidental sip of the tap water has taken me out for over a week.
Those of you who love the graphic details of my misery will be pleased to know I spent the majority of that week on the toilet, with brief breaks back to bed only to realise that I needed to be back on the toilet. I think I went two and a half days without eating anything at all, just drinking litres and litres of water. Finally I managed to start eating some food, only to vomit it back up, essentially just wasting the money I spent buying it.
But I got better and managed to see a good chunk of Delhi.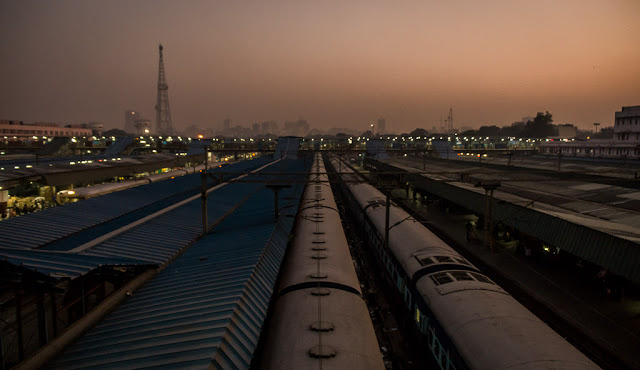 New Delhi Railway Station
The metro system here is fantastic, absolutely the easiest and cheapest way to get around if you don't mind the huge crowd of people pushing and shoving and biting trying to get in.
Just a quick summary because I'm off to the airport, but some of the highlights of Delhi…
Getting my hair cut on the side of the road:
The temples and tombs at Lodi Gardens:
Running the gauntlet of not-spicy/insanely-spicy every time you order food at a restaurant:
And Jantar Mantar, the amazing observatory built in the 1700s:
Now I've run into a bit of a problem.
I applied for my Iranian visa on the 22nd of November. I went to the Iranian Embassy in Delhi on the 21st and they told me to go to iranianvisa.com and apply for the authorisation code which would be sent to the embassy, and then they would issue the visa for me. I paid for the express rush service, a princely sum of $150, and sat back and waited. Well, when I say "sat back", I really mean parked myself firmly on the toilet with a bucket in my hands. It was not a good week…..
So now it's the 10th of December, and still no visa. I've been emailing them every day and there have apparently been a bunch of delays in Iran that have slowed the process down. For instance, the pollution in Tehran is so severe that the government declared half of one week to be a forced holiday to minimise the amount of traffic on the roads. Things like that. So it's now the last day I can get my visa and it's not looking hopeful. 🙁
However, there's a bright spot in all of this. New Zealand citizens are granted Visa-On-Arrival privileges in Iran. If it works, all I have to do is turn up at the airport and they'll give me a two week visa for 50 euros. The only thing they require is a confirmed return ticket. Which I don't have. I want to catch the train from Iran to Turkey. I have all the details for that so hopefully I can just talk my way out of it.
If not, I'm getting deported.
According to Wikitravel there were a few cases of tourists applying for VOA and being deported in 2010. I'm sure they weren't from lovely New Zealand and probably didn't have a good reason for being there, so I'm hoping that I end up fine. I have no idea what the process is if I don't get a visa – do I buy another plane ticket? Can I buy another ticket? Do I live in the airport like Tom Hanks? Guess I'll find out!
Who could refuse a visa to this guy?