Arrived in Hanoi yesterday at about lunchtime. This is perfect because it's the earliest I've ever arrived in a new town and I can actually spend some time looking for a place to stay.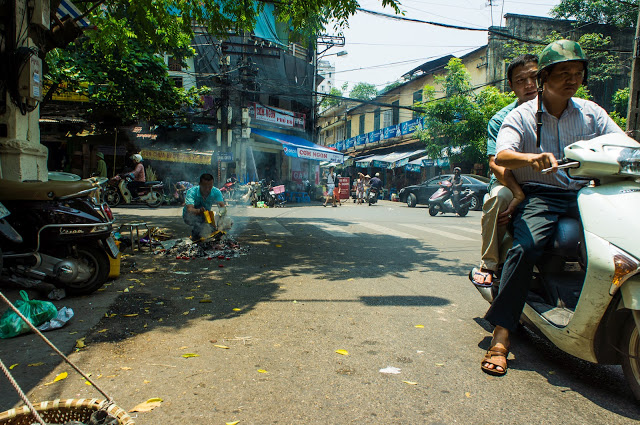 Burn the evidence
The Hanoi Backpackers was of course completely booked out, I checked before I left, but after wandering around that area I managed to find a really nice place for only 140,000 a night – exactly the same price as a dorm bed in the backpackers, and just down the road! It's run by a really nice family, the room is huge, has a big bed, massive bathroom, and is nice and clean. Absolutely no complaints.
Decided that I've been eating asian food long enough and it was time for something western. Went to the backpackers to check it out and get a feed. It was pretty dead to be honest. I'd heard that the place is pretty packed out, but maybe 7pm was a bit early. I got myself the chicken and mushroom pie – first pie in 3 months!!! It was ok. Wrong type of pastry altogether, but reasonable effort nonetheless.
Also saw the first Olympic coverage since I've been here, and of course it had to be handball. If ever there was a sport not worthy of being in the Olympics, handball would be it. Dodgeball is a more Olympic worthy sport! It would also make for some sweet press photos. This sentiment was shared by the small crowd of unimpressed sports enthusiasts clustered round the single TV in the hostel, watching France beat Tunisia in a game clearly developed in a primary school playground, and largely unchanged from there.
After dinner I just decided to wander around the town and see if I could find some sort of nightlife. There's bound to be some bars/clubs in a city this size right? The city really comes to life at night – almost impossible to walk anywhere due the the incredible volume of scooters that fill every street and the footpaths as well.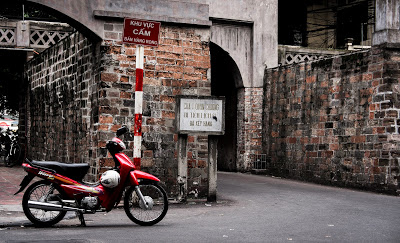 The least amount of bikes ever
I managed to accidentally stumble across a bar that was offering FREE BEER from 8:30pm-9:00pm. It was 8:58, so in I went! No kidding, they were actually giving away free beer, no strings attached. I am heading back there tonight at 8:30 precisely! I ran into a crowd of French medical students doing an internship for a month in Vietnam. How cool is that!! One of the guys was named Amaury and had been living in NZ for 6 months, so instantly invited me to stay with him when I got to France. Badass!!
Ended up dancing the night away with them at Flow Bar. Met a cool Japanese girl – first person I've met from Japan so far in my two and a half months! They're all off to Sapa today (everyone comes and everyone goes, right?), but looks like Hanoi might not be so bad. 🙂
Now I'm starving and time to go find some more food. Unfortunately I'm apparently living in the noodle district so rice is very hard to come by. It's like a 10 minute walk to find anything that's not noodle soup. The soup is pretty cheap though……