Sent off my application for my Indian visa today – I was able to get a 6 month entry no problems. The visa gets processed somewhere and comes back to me on the 4th of September. This will work out perfectly because I have a friend coming across from NZ on the 10th of December to meet me in Iran.Now, I didn't realise when I got my 15 day visa for Nepal that this country would be so awesome!! I'm kind of regretting that I have to leave so soon. I just moved from my crappy moldy hotel room into a new place that has a huge king size bed, polished wooden floors, a nice balcony and lots of sunlight, all for $5 a night. Damn.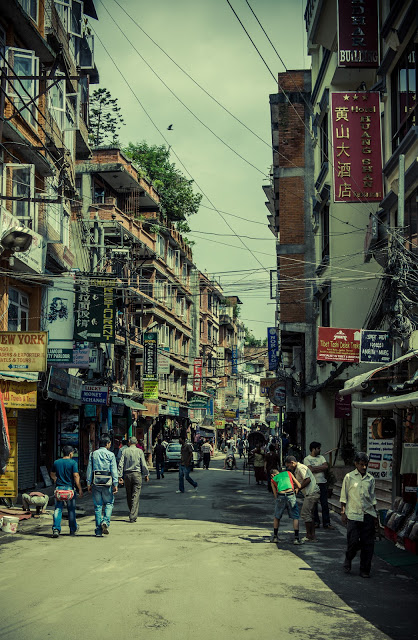 On the way back from the Indian Embassy, I rounded a corner and ran into a protest. The Nepalese Police was out in full riot gear all looking quite serious. I asked around and it was all the local teachers protesting their lack of pay. They get paid 2500 rupees a month, which is about what I'm spending every 3 days. 500 for a room, another 500ish for food. That is insanely low. I don't know how much it costs to live as a local, but the cheapest food I've found is about 60 rupees for a meal, so I can't imagine living on 2500 a month and supporting a family too.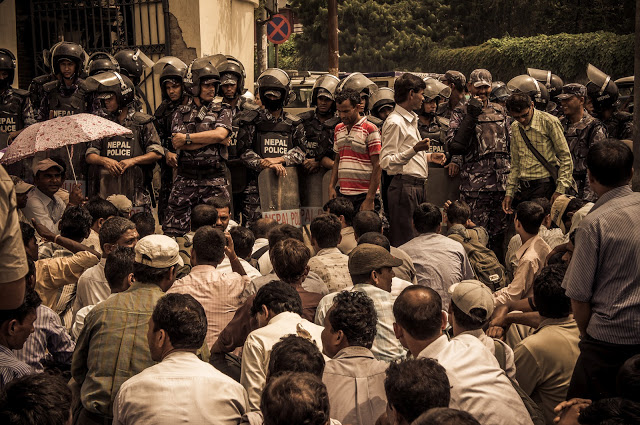 Aside from the odd street protest and the dozens of touts everywhere trying to sell you treks, hash, or LSD, this place is fantastic. The people are so friendly and positive. Everyone is keen for a chat with you and happy to walk you halfway around the block just to help you find the post office. The only possible downside to this place is that the internet connections run at a maximum of 50KB/s. That makes it quite hard to upload photos…. 😛
And I went out this afternoon and ran into all the kids going home from school. I got an amazing series of shots of kids running in and out of the traffic with huge smiles on their faces, jumping on and off the rickshaws and dodging motorbikes. Probably the best candid street shots I've ever taken. And then I found out I'd left my memory card back in my room.
Damn it!!
Ah well, can't win 'em all.