I'm sitting next to the pool in a beautiful tree-lined private garden, eating a platter of freshly cut fruit that some lovely Thai girl brought out for me – perhaps one of the nicest places I've stayed at, and I didn't pay for any of this. How did this happen? Good question!
Two nights ago I met the lovely Jill who challenged me to hitchhike the next part of my journey. Nothing like a good challenge so down to the 7/11 to buy myself a marker pen, and 10 minutes later I have this. MapsWithMe has all the place names in Thai as well as English, so I just opened that up and copied out the Thai name for Hua Hin.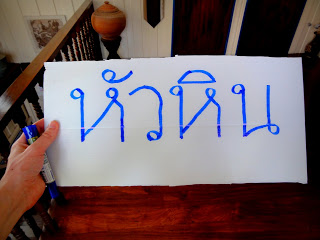 I pack my bags and leave the very nice Maggie's Guesthouse, and wander down the road. Soon enough there are guys pulling up on bikes offering me a ride, so I negotiate 40 baht to the highway. It's actually quite a distance so I'm glad I didn't walk it, the sun is burning me up as it is. I thought that leaving NZ I'd be getting out of the worst sun in the world, but this is still pretty bad. I think I got burnt the first day I got here and that's sort of been par for every day since.
The highway is busy and I'm thinking this is going to be pretty easy. I take off my shades, smile a lot, and start eye-balling drivers. No dice. I hear someone call from behind me and look around and there's a lady at a minibus agency. Her name is Rose, and she asks me if I'm crazy – she can get me a ride to Hua Hin for only 180. Well sure, if price was the point here! I sit down with her for a chat and it turns out she was a big hitchhiker in her youth, going all over Thailand and China. Badass, old Thai lady!!
I go back to the highway and it's baking hot. My sign is not working. Trucks, vans, and cars are all flying past me with not a backwards glance, something needs to change… I go back to Rose and ask her to show me the Thai word for "North". I put that on the other side of my sign and head back to the highway.
Five minutes later I'm in a van full of locals and we're speeding north. Mission accomplished! They speak no English, and I speak very bad Thai but I thank them and we laugh about my sign. Apparently my Thai writing is pretty good! Dee mak!
After another vehicle change I arrive in Pran Buri, where the main highway splits north and away from the beach, and then east to the beach and Hua Hin. I'm about to hitch again when this girl calls from behind me and indicates this little old bus just down the road. She says "Hua Hin, catch bus!" and tells me it's only 20 baht. That's 80 cents for a bus trip that's over 20km. This bus looks old and awesome so why not!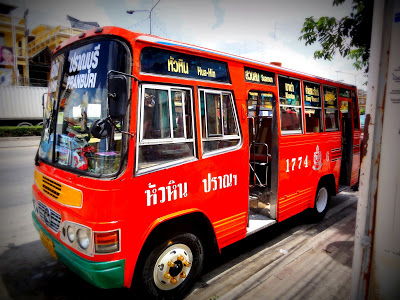 This toy bus took me to Hua Hin
When I get to Hua Hin I strap on my backpack and wander the city looking for a good deal. I find some rooms at 100 baht that look like you'll get stabbed, robbed, and then stabbed again. Everything else seems to be about 400 baht up. Finally I find this really nice place called Kingshome run by John, a very interesting Dutch guy, who has travelled all over the world and finally settled down at 68 in Thailand. It's right by the beach and the main part of town, and just has a good vibe to it. He shows me the rooms, starting with the best 1500 baht, and finally ending with this room under the front verandah that you have to access by climbing a ladder. It is awesome. We work the price down to 200 baht if I stay two days. He tells me that's the cheapest he's ever rented it, no idea if that's true.
After I get my gear stowed and had a bit of a tour of the city, I'm chatting with him in the foyer and we get to talking about what I did for a living. When he finds out I was in IT he says he might have some work for me. He wants to take his spreadsheets of data collected over the last 10 years and turn them into some nice graphs. Hello pivot tables!! I tell him sure, if there's a room upgrade involved. He agrees and I move my stuff into a huge air-conditioned king bedroom with crazy decor, private ensuite, full breakfast service, free this, free that, the works. This is awesome!!! When his daughter gets home this afternoon I'm going to work with her on getting the graphs set up and teach her how to do it. I can't see it taking more than an hour, it's pretty straightforward.
So around 9pm I wander out to the town to find a drink and just as I'm walking out the end of the street I hear "Hey mate!". I turn around and sitting on the coolest motorbike ever to ride all the way through India, Vietnam, and Cambodia is Evas. He asks me where there's a place to stay and I tell him my old room is free. He has a look, loves it, stows his gear, and we go out for a beer. He spends the next hour telling me his stories of riding through Asia. Soooo coool!!!!! There is no question now, I'm picking up a bike as soon as I find one. Prices in Thailand are actually really good, I'll have a look when I'm in Bangkok.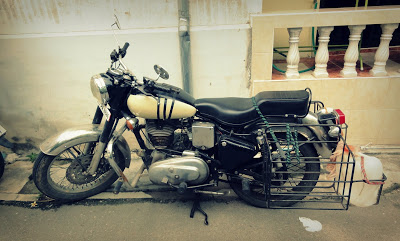 Met up with a swiss girl called Irene, potentially be travelling up to BKK together tomorrow. Evas is off south, down through Malaysia, then he's selling his bike and going home. On the road for 9 months!
The town is beautiful.