After jumping on the first train to the south that's
not
going to Bangkok, I find myself in the town of Phitsanulok. Not even the guidebook has much to say about this place, but maybe something interesting will turn up. I get off the train at 1:30am and it's pouring with rain. Not the most auspicious of starts. I know I have about 1km to walk to the guesthouse so it's not that far, but the taxi guy wants to charge me B80. Even in the rain this is ridiculous! But I see a guy with a covered tricycle – excellent, another mode of transport I can tick off my list. 🙂 30 baht to take me to the guesthouse, much better!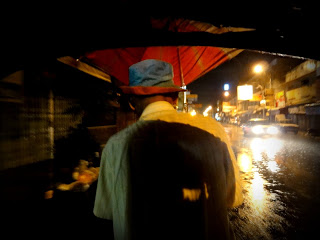 He doesn't speak any English but with another guys translation help I'm pretty sure we're going to the right place. He unfolds an umbrella for himself and we're off. The guy looks terribly old and I probably could have walked faster, but it's a slow but awesome journey through the pouring rain and the unfamiliar streets of Phitsanulok.
There were two options to stay at, a dorm-style accommodation way outside the city, or a "hotel" right in the middle of the action. The dorm was a lot cheaper and I might have met some other travellers there, but to be perfectly honest in two days I haven't seen any other westerners so I don't think this is a very popular town!
This is good though – I really need to get myself a pair of shoes, another t-shirt, replace my shorts, and get some new sunglasses. The perfect, cheap, non-tourist town to do this. Or so I think….
I start by heading off to the mall. If there is one place you could find all those things together, it's the mall right? The town is built along side a river. To be honest, not the best looking river in the world: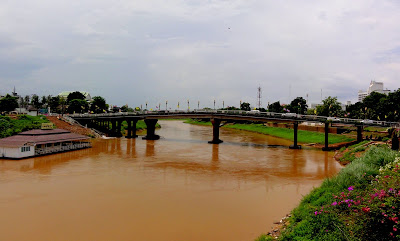 I pass a few shoe stores along the way but don't even bother looking because the mall has it all right? When I get there, there's no carpark – there's a motorbike park!! How awesome is that! 🙂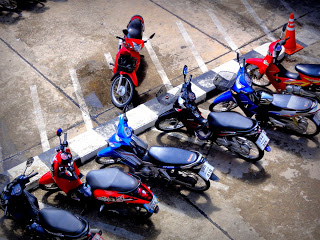 The prices at this place are insane! A pair of shoes is B2000. T-shirts are B700. This is genuine clothing – I want my cheap knock-offs! I check out all the floors, can't even find a replacement battery for my phone. What kind of crazy Asian city doesn't have knock-off clothes and knock-off batteries??
Never mind, I'm sure I'll find something, maybe at the night markets. Definitely at the night markets. I go for a wander 2km down the road to the bus station. Stop off halfway along the way for lunch at a roadside place. I've learnt the Thai name for chicken fried rice, I'm so proud. 🙂 Khao Pad Gai, too easy. I get my fried rice and a 600ml Coke for 30 baht. Man this place is great!
At the bus station I get helpfully informed that my previous info from the tourist office by the river was wrong – there are no buses to Aranyaprathet, or anywhere along the way – I have to go to Bangkok.
Damn.
I really didn't want to go back to Bangkok.
Ah well, c'est la vie. Take a motorbike back to the train station. Tickets are between 170 and 800 depending on class. I grab the timetable and walk back to my room, plenty of time to study that later. It's about 6pm so I decide to go check out the night markets and find me a new t-shirt!
The markets are in full swing when I get there, so many stalls, anything you could imagine. I go for a wander looking for some sunglasses. I wander the whole length. No sunglasses. Ok, but there will definitely be shoes right? Sure thing, but only real-name brands for B500 and up. I have seen cheap knock-off Chucks for B250 in Khao San Rd, why didn't I buy them then?? Fine! T-shirts, however, will not be a problem. Except the prices are around B190 and the quality is terrible! Those horrible iron-on full screen prints, and the fabric is the normal heavy cotton that will kill me in this climate. The shirt I'm wearing was B150 from right in the middle of Khao San and it's awesome! Light cotton, and great print. Bangkok's not looking so bad after all….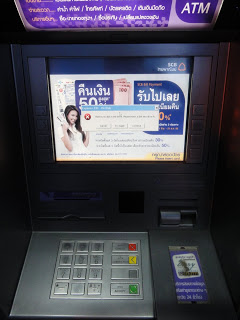 Don't get money out of this ATM…
So my trip through Phitsanulok has turned out to be a total bust, about the only thing I can say is that I got some cheap eats.
Also learnt how to order fried chicken and cashews – Gai Pad Med Mamuang. Ordered that for dinner, 30 baht. Got takeaway, went back to my room, watched Men In Black 3.
Traveler extreme. m/ m/