I am having a beautiful and incredible time. I was sitting at dinner tonight and just realising how mind-blowing it is to be here in Thailand and travelling. Every thing that happens is a huge and warm and open memory. Every person I meet is a shooting star who burns a bright light through my mind and my memories. There have been so many cool people that I've met already who now exist as happy feelings in my head when I think about them. We're spoiled with the transitory nature of travel and the incredible deluge of wonderful experiences that happen every hour and every day. I feel very blessed to be here.
I rode out to Pai with Dave, Yuichi, Mark (Xiao), Andy, and Sophie. The road from Chaing Mai is 134 kilometres long and has 762 curves in it. I rented an awesome 200cc Honda Phantom instead of the scooters that everyone else got. It was perfect, definitely didn't need to go up to 400cc. Riding that bike was ultimately awesome, I pulled up at the hostel in the morning and felt like the MAN. Everyone came out to look. All the guys who got scooters wished that they'd got my bike. None of them could ride so obviously they wouldn't but still, who wouldn't want that bike!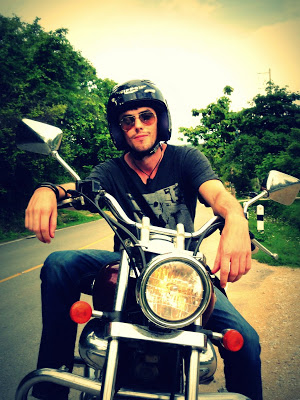 Anyway, the others left way before us but we caught up with them pretty quickly. The road out to Pai was completely butchered to be honest, but the corners were tight and my bike was fantastic. I have to get a cruiser when I get my next one, absolutely no question.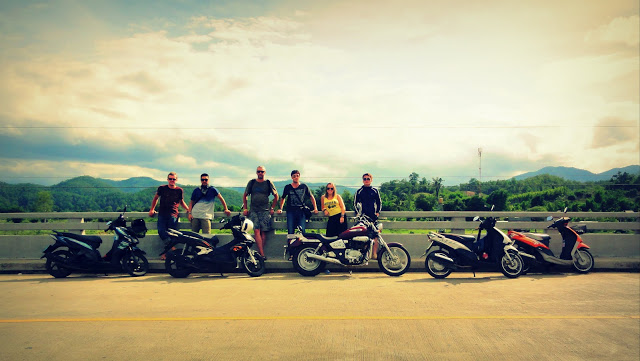 Andy, Yuichi, Dave, me, Sophie, Mark
We stopped off at this geyser on the way to have a look. It cost B200 to get in so we were a bit put off, but decided to go in in the end. Turned out that it was a whole hot spring complex and restaurant and guesthouse. We jumped in the hot pools and chilled out. It felt so great on my back after riding for so long. The road out to Pai is supposed to be about 4 hours long. At scooter speed we took a bit longer. On the way back it only took about 3 hours.
Anyway we got to Pai without any problems and finally found our way to the Spicy Pai guesthouse. It was ok. Like really, it was pretty average. After people had been raving and raving about it I think we all thought it was a bit of a letdown.
The group I was with was completely awesome though. It's the people you meet that really make your trip. I was so lucky to find my way to the Little Bird Guesthouse and meet up with those guys. There were two awesome French guys, so much fun!!! Then Yuichi from California, Dave from England, Sophie from Holland, Andy from England, and Mark from China. That guy was a complete legend! We taught him so many swear words and how to use "fucking" properly. He had this app on his phone that he used to translate back and forwards while he was learning, it was hilarious. We taught him polite and impolite. It was so brilliant. He got really sunburnt, so:
Polite: My, this sun is quite hot.
Impolite: FUCKING SUNSHINE!!!!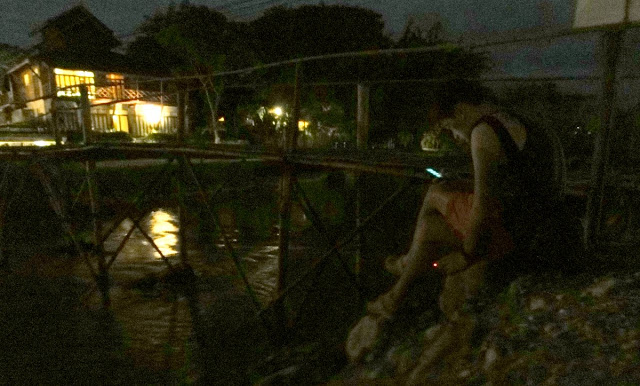 Mark, probably using his translation app
Next day drove back from Pai. Now that was an awesome ride. No scooters, just me riding my own speed. Made it all the way through the Pai canyon bits and it was only when we joined back up with highway 107 that the rain came out and thundered down. We just decided screw it, we'll get soaked, and we kept going until we got to the hostel. The sun came out at the end and we dried out (mostly).

Got dinner and now here I am. Going out to get a proper back massage. 🙂