This has been a beautiful day! 🙂 Ranong rocks!
Got up at 7, caught up on some things on the computer and went for a walk for breakfast. Well I tried to get breakfast… I didn't find a single place that understood any English, and I hadn't yet learnt the words for any food items. So as soon as I got back I put a Thai phrase book on my phone so now I am set.
And it worked! I stopped for lunch at an amazing little place that spoke no English, but with a combination of pointing and my astoundingly poor Thai language skills I managed to get an incredibly tasty meal and drink for only B45. This is incredibly cheap compared to the B150 you'd pay for just the meal in Phuket. Ranong is awesome!
They have beautiful street markets all over the place selling produce for the locals. This town is extremely non-tourist oriented, which makes it all the better. I don't think I've seen one English sign here yet.
I decided to get the night bus out of here and save on accommodation for a night by sleeping on the bus, so had a chat with the lady at the front counter of the guesthouse. Surprisingly she spoke no English (who is this guesthouse for?), so she got on the phone to someone else and I had a back-and-forwards conversation with phone-lady as translator. I established that there is a bus station, and that she wasn't sure when the bus to Prachaup would come. I asked if they could call the bus station, but apparently that's not possible. It's amazing to be in a place where you can't just look up a timetable on the net. Even though there is free wifi everywhere, you can't really use it for anything local.
So I learnt the Thai word for the bus station (Kon song), walked down to the street corner and stood there looking lost for a few minutes. This is the easiest way to get a motorcycle taxi to stop for you: just look western and lost. Soon enough some guy pulled up on a bike and pointed to the back seat. Why yes, Thai stranger, I would love a ride! I said "kon song", he said "50", I said "30", he said "Ok!". Five minutes later I'm at the bus terminal and life is good. Another incredibly awkward conversation and B230 later, and I'm pretty sure I have a ticket to Prachaup.
Fairly sure…..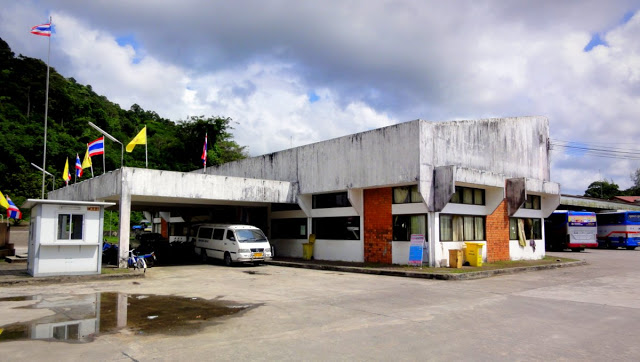 Bus Terminal in Ranong