Met a great guy tonight when I was getting dinner at a street stall – Raphael from France. One of those people you meet who you just click with. He'd just come from a 3 month trip through New Zealand, and then 9 months in Australia. Thanks to his useful input and French travel guides, I now have an excellent plan for tomorrow! I'm seeing the last couple of big sights here in the morning with him, and then catching the train at 11:20 to Lopburi. It's a city with some interesting history and very compact, so I should be able to see it all and then catch the night train off to Chaing Mai at either 9pm or 10pm.
Here's a quote about Lopburi, from my little guidebook:
"Situated in the very heart of monkey territory, […] Visitors to the wat are issued a monkey-hitting stick for the duration of their visit."
Sounds like a hell of a time!!! I don't know if this is good or bad but I'm finding out tomorrow. Do aggressive monkeys scare me? Yes. So am I doing it? HELL YES.
Now, better actually write something about today! Kind of tired, might just write a summary……
Rented a bicycle: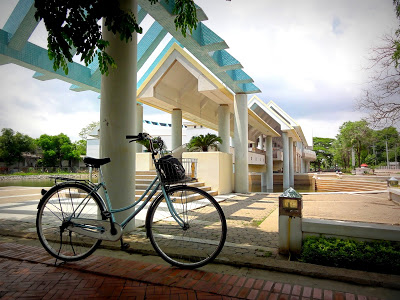 This is at the Ayutthaya Historical Center
Saw some elephants: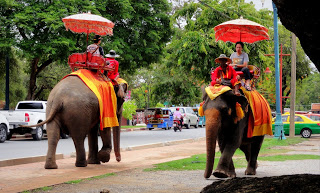 Saw some headless buddhas: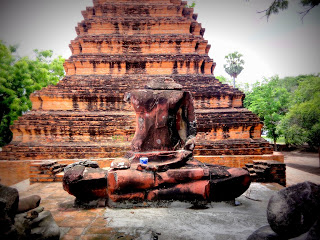 And saw some cool wats:
Wat Phraram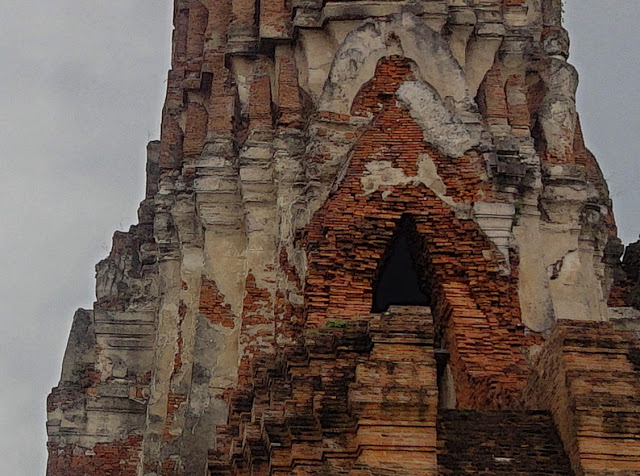 Detail of Wat Phraram
Great day, beautiful city, a lot of history, very nice to be out of Bangkok and with B25 meals again. 🙂