I'm sitting in an upstairs balcony area in A Little Bird Guesthouse in Chiang Mai. I followed my French friend's advice to continue up north on the sleeper train and here I am. I'm not really sure how much sleeping I did considering the bed was just a little too short for me to stretch out in, but I did my best.
In the last blog I was planning my day for Lopburi. In the morning still in Ayutthaya I got up early to pack my bag and dropped it off at the train station. I went with Raphael to Wat Yai Chaimongkhon and had a look around there. It was pretty huge compare to the ruins that I'd been looking at previously.
After a pretty decent lunch and an amazing fruit shake, I jumped on a tuktuk back to the train station just in time for the train to Lopburi. It was just an hour north on the slow train, nothing much happening. I met two Belgian tourists and got the guy's details. If I go through Belgium, I'm totally hitting him up for a beer.
At Lopburi I was feeling pretty sunburned and wasn't really sure if I could be bothered braving the sun to the famed monkey temple, but glad I did – got this awesome photo of me and my monkey buddies!
There were monkeys all over the streets surrounding the area of the Phra Prang Sam Yot temple.
Only for about a one block radius and then they petered out pretty quick. But inside the temple itself there were a lot of them!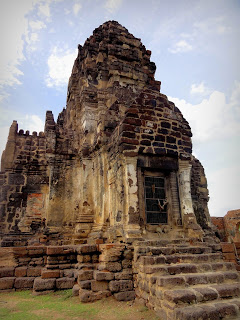 Phra Prang Sam Yot
After the temple, I just sat in an internet cafe for an hour, enjoying the air-con on my sunburn. I got some dinner, and then spent the next 6 hours reading at the train station, waiting for my night train to arrive. The Belgian tourists had their train delayed by 5 hours, so when mine was only delayed 40 minutes I felt pretty lucky.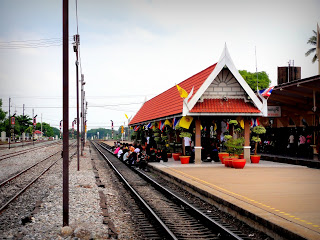 School kids waiting for an extra 4 hours…
The book that I got at the hostel in Bangkok (Human Traces) has turned to be really good so I am stoked! It's one of the most engaging books I've read in a while, and I'm a bit sad that I've got through so much of it already. Half the pages at the beginning were falling out so I'm trying to read while also trying to stop the pages from flying off in the wind created by all the fans! 😛
As I'm sitting there reading, huge bugs of various sorts keep falling off the ceiling and jumping off the walls onto me. I wish I took a photo of it, but I saw something that was part enormous cricket, part demon bug, all evil, and I probably would have shat my pants had it landed on me. This little guy landed on me though :3
After a sufficient delay the train comes and I jump on and fall asleep. In the morning when I wake up we still have an hour and a half to go and the scenery is amazing.
I make the mistake of opening a page of my book again and I am hooked. Sorry scenery, I'll see you some other time!