Holy shit Vietnam!!!!
Took the bus up here with Mat from Australia. Absolutely tops bloke. Really nice to be talking to another Australasian again, even though now my speech has rocketed back up to 150% speed. Damn you Aussie man!!
The scenery here is unbelievable. That photo is barely changed from what we saw as we were riding back from seeing Tam Coc – the "Halong Bay of the rice fields".
Once again I was lucky enough to meet someone who had an actual plan for the place I was thinking of visiting. We rented scooters in the morning and rode out to see Tac Coc – "The Halong Bay of the rice fields". We chilled out on a small metal boat, while a Vietnamese lady rowed us with her feet.
The scenery was mind-blowing.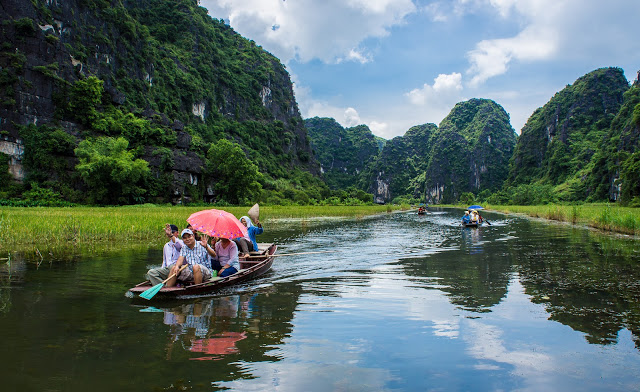 After the river trip, we rode out to see a temple built into the side of a cliff. We decided after seeing it that we might as well try and climb to the top. It was a hell of a climb – razor sharp rocks, and pulling yourself up some pretty steep faces, but I got right to the summit. The view was incredible!!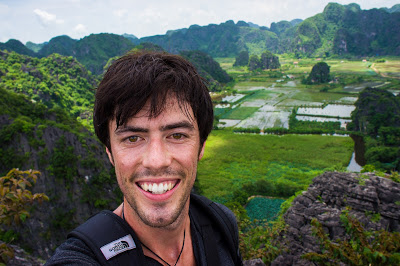 At the bottom of the temple we stopped to take some photos of the scenery and Mat managed to fall into the pond with his bag and everything. The iPhone cracked on the way in but was still working, and the camera in the bag managed to survive without getting wet. He lost his sunglasses though which is a real pain when you're on the bike with no eye protection.
After that we just rode out into the great blue yonder. No plan, just riding any direction that took our fancy.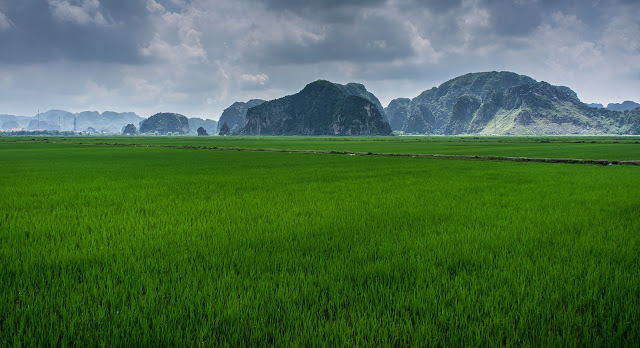 We rode through so many small villages where the roads were about 4 feet wide, and all the kids came out to see us and say hello. When we stopped off for gas, Mat bought a little bag of candy for the kids there and they were so excited, it was too cute. 🙂
On the way back into town, the sky started clouding over something fierce. There was a huge storm coming, but unlike the skies in NZ, there was so much texture in the clouds. I took a couple of beautiful photos before the rain started pelting down.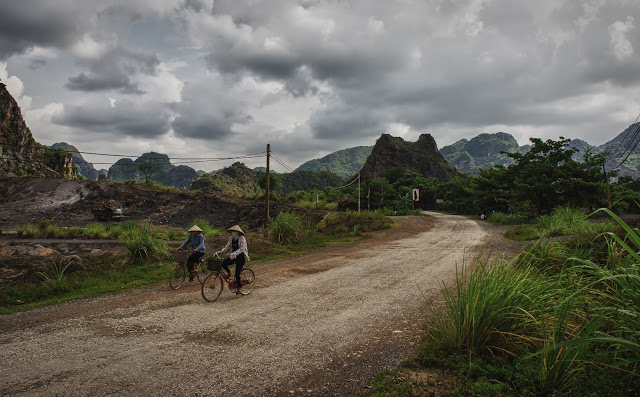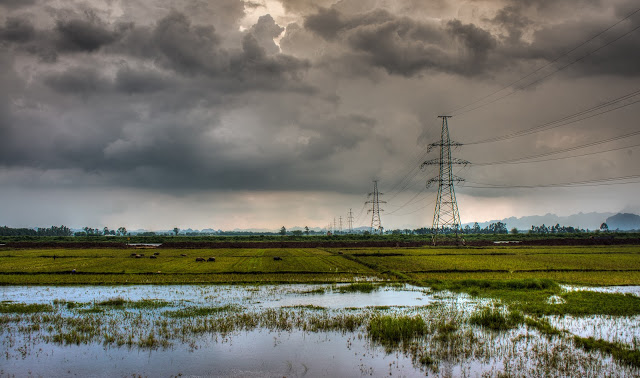 We stashed everything electronic under our bike seats and just kept going. Since he didn't have any sunglasses we couldn't go too fast, so just cruised back into town at an easy pace. The locals all had their ponchos on and were giving us a lot of strange looks, but it was amazing. When you're travelling with nowhere to be, even getting soaked in the rain is awesome. 🙂
No nightlife in Ninh Binh, so we just got some great food and sat on the street drinking "bia hoi" – the cheap home-brewed beer you can buy on every street corner.
The next day we did the same thing again – just picked a direction and took off. We did a massive 3 hour loop around the town. I was putting on sunscreen religiously, but because I'm taking the doxycycline it didn't really help at all and I got really burnt. Sorry malaria, but melanoma is a real risk and I don't think I can take the tablets any more.
I was in a climbing mood, so when we came across some of the massive rocks sitting out in the middle of the fields, I gave one a go. They are a climbers dream – huge jagged handholds, and razor sharp edges for your shoes to cling on to. I absolutely destroyed the soles of my $5 Thai shoes, so I had to chuck them out, and time for a new pair.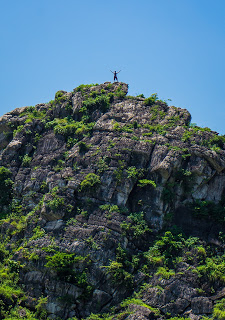 When we got right out into the sticks, we started seeing signs for Thit Cho everywhere – dog meat. I was keen to find a place to stop for lunch, but Mat didn't want to risk eating dog by mistake!
That night, same thing again, and now we're on a bus bound for Hanoi. Missed out on booking accommodation at the Hanoi Backpackers, but I'm going to try and find some cheap guesthouse in the same area. Best of luck to me! 🙂