Right now I'm sitting on a bus heading for Ayvalik, our last stop in Turkey. Tonight or tomorrow we jump on a ship bound for Greece. It's the day after Christmas, and I couldn't have guessed when I left on my trip that I'd be spending Christmas Day at Anzac Cove in Gallipoli. What an amazing place to visit, and such a strong symbol of the respect between the ANZAC nations and Turkey.We were in Izmir when we finally decided on our course of action to get to Gallipoli by Christmas. It was a mad dash through a good portion of the country in only three days, but we were sure we could do it.
At Selcuk we left our bags at a very friendly hotel, and started hitching down the highway to Ephesus. It seemed a lot further on the map than it really was, and before we even had a ride we'd walked all the way there. It was kind of interesting, but not as exciting as I thought. Although I did find out what it was like to use a real Roman toilet:
And I tried my hand at shooting some wedding photos:
From Selcuk we jumped on the night train, arriving in Denzili at 9pm. After a long and rainy walk around the city we finally secured a night's accommodation for 40 TL. Nothing much to say about the city, as we were on a bus to Pamukkale first thing in the morning. In a brilliant stroke of luck, we walked out of the hotel, turned a corner, flagged down a bus that appeared right in front of us, and it was going to Pamukkale!
Now Pamukkale was a beautiful city, we could have much more happily stayed there than in Denzili, but alas, we didn't know. The reason we came all the way out here was to see one of the wonders of the modern world – The White Terraces. For everyone back home that wished they had the chance to see the Pink & White Terraces before they blew up, check this out:
Worth it to go all that way to see them? Not sure. Worth it for bragging rights? DEFINITELY.
After the terraces, we jumped on a train and powered our way through Izmir, Bandirma, Gonen, Bagu, and finally Canakkale. Half starving and bleary eyed, we stumbled across the Anzac House Youth Hostel and booked ourselves two beds. The dorm was completely empty so we had the whole place to ourselves, and the beds were big and comfortable, and we went straight to sleep.
In the morning we decided to take the guided tour around Gallipoli. Good plan as it turned out because we didn't have to worry about the directions or ferry timetables or anything. It was the first brilliant sunny day we'd had so far in Turkey, kind of an inappropriate setting for such a costly conflict.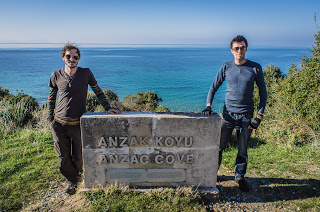 We met up with another group of people on the peninsula who were joining our mighty group of two. They came from a much more … shall we say … privileged background than we did. It was funny after the type of traveling that I've done to hear the 5-Star group complaining about the "trials" that they'd faced. 🙂
The respect between the Turks and the ANZACs is evident everywhere you go on the peninsula. There are monuments to each of the three nations very close to each other, with no special extravagance or attention given to the Turkish memorial. The grounds were immaculately kept, and no picnicking or swimming is allowed at the beaches out of respect for the soldiers who fought there.
The original front-line trenches that the soldiers fought from are still there, only 8 metres apart on opposite sides of the road. Originally 3 metres deep and 2 metres wide, they've eroded and filled in a bit over time, but a terrible reminder of the conditions of the fighting.
One of the most important Turkish generals was Mustafa Kemal Atatürk, who became the first president of Turkey. Following the defeat of the Ottoman Empire in World War I, he led the Turkish national movement in the Turkish War of Independence. We saw his amazing memorial in Ankara.
In 1934 he wrote a tribute to the ANZACs which is immortalised on a huge stone monument at the cove: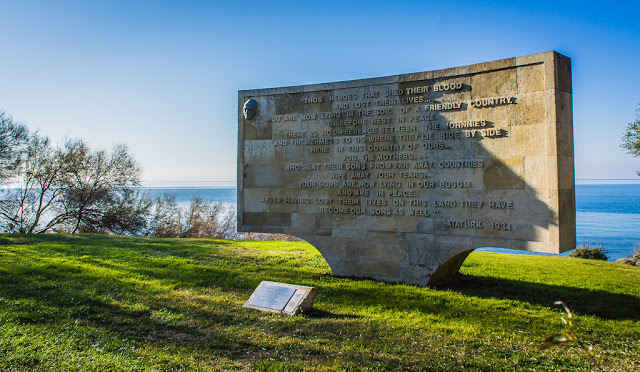 The quote reads:
Those heroes that shed their blood and lost their lives… You are now lying in the soil of a friendly country. Therefore rest in peace. There is no difference between the Johnnies and the Mehmets to us where they lie side by side now here in this country of ours… You, the mothers, who sent their sons from faraway countries wipe away your tears; your sons are now lying in our bosom and are in peace. After having lost their lives on this land they have become our sons as well.
Incredible. It brought a tear to my eye when the tour guide recited it from memory in the bus on the way there.
Rest in peace.