The bus from Avanos dropped us back at the Kayseri bus terminal at 5pm. According to the touts who pounced on us as soon as we arrived, there was a train heading from Kayseri to Ankara at 6pm. We had 6km to get to the train station, and 60 minutes to do it. The race was on!!
It started off great with a quick dash down to the electric rail metro line. When we took the metro out of town earlier that day, we'd sneakily walked along the tracks to avoid the payment turnstyles, so we tried to get back into town the same way. Unfortunately this time there were security guards manning the gates, and they weren't too impressed by our ignorant tourist routine. We naturally tried to resolve the situation by paying, but as far as I can gather from my working knowledge of Turkish (non-existent), you can only use a metro card which you have to buy from the market. A train arrived at this point but no amount of arguing would let us on, and we could only watch in horror as the doors closed on our hope of timely inter-city exodus.
We tried the next station, and the one after that, both with similar results. We then sensibly tried to board a city bus heading into the center of town. No dice, you must have a metro card for that too! We pleaded and begged, but it only fell on cold, heartless, Turkish ears. What about all the poor tourists and homeless people who only have small change? 🙁 Finally we decided just to camp at the traffic lights and thumb a ride. After not very much waiting, a local guy pulled over and gave us a lift to the train station. If we hadn't tried the public transport in the first place, we would have actually made it on time!
The next train to Ankara was in a couple of hours, so we bought two sleeper tickets and went for a wander to find some food. Sam grabbed a sad looking hamburger for 5TL, and I paid 7TL for what ended up being an enormous three-course feast. Score one to me. After dinner we wandered down the road to check out the mosque, lit up like a Christmas tree in the cold, winter air.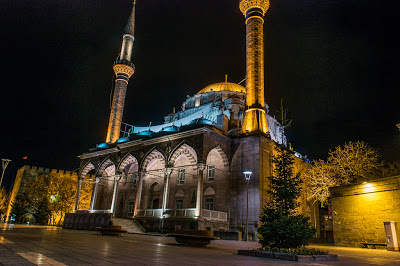 When our train arrived we eagerly jumped on, keen to get on our bunks and get some proper sleep. Funny, there didn't seem to be any sleeping compartments on the carriage we were booked on. And on closer inspection there didn't appear to be any on the entire train. The lousy, cheating ticket officer had misinterpreted my clear hand signals for "sleeping carriage" and booked us on an early train which didn't have any! After an entirely sleepless night, we spent the day recovering in Ankara, and booked ourselves a ticket for Izmir.
The train from Tatvan to Kayseri was about 3/4 of this distance, and took us 24 hours, so we were budgeting around 30 hours for this trip. We found our bunks, dumped our stuff, and had a lovely dinner in the dining cart as the east of Turkey disappeared quietly past the window.
In the morning we had breakfast and I was settling down to do some photos on my laptop, when we arrived in Izmir.
WHAT?!
Apparently this train was a lot faster than the one that took us out of Tatvan. Probably something to do with the modernity of western Turkey vs eastern Turkey. Either way, some sort of magic happened and here we were.
At the coast.
On the very same sea as the Mediterranean.
AWESOME!!!
Naturally we went straight to Starbucks and stole their free internet. After some furious planning we decided to take the train on to Ephesus and Denizli. Probably could have caught the train straight down from Ankara and saved some time, but that's not the point!
Here is a picture of a lovely park. 🙂

Ankara Central Park