It started off so well…..After my small scare at the Indian check-in counter, the guy happily printed out my two boarding passes – from India to UAE, then UAE to Iran. I was seated in seat 1D for both flights, the very front row. This was going to be awesome – first class service all the way, first off the flight, and all the legroom I could possibly need!
Day 1:
Arriving in Tehran, I made my way to the visa office. Getting the visa was no problem, but it cost double what I was expecting, both from my internet research and from what they told me at the New Delhi Embassy. This used up my one week's reserve cash, which I didn't think this would be much of a problem. Oh how wrong I was…….
I jumped in a taxi and went to meet up with Sam (my good friend from NZ), who had arrived at 4am that morning and booked us a hotel for the princely sum of US$30 a night. After some high-fives we went out in search of food.
Ahhhh…. now this is what I'm talking about – Iranian food is AWESOME!!! Goodbye horrible ultra-spicy India, I've already forgotten everything about you. Iranian food is just what you'd expect – lots of meat and vegetables, well seasoned, not spicy; perfect.
I jumped on the laptop when we got back to the room and was surprised to find that Facebook was blocked. Luckily, the VPN I set up for China was still working, so no problem!
We were both pretty shattered, so turned in early for the night, after planning a rough 2 week itinerary to see a good chunk of Iran.
Day 2: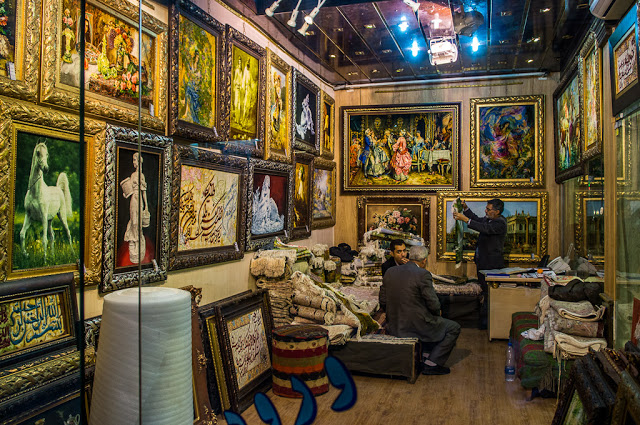 The Great Bazaar in Tehran
Apart from the little bit of cash I had after paying my high-priced visa, we had no money on us and went to the bank to get some out. I knew that Iranian ATMs didn't allow international cards due to the U.S. banking sanctions, but I was under the impression that banks would let you buy prepaid gift cards with your credit card, and then use them on ATMs all around the country.
This was wrong.
It turns out that there is no way at all to get money inside Iran thanks to the United States government, except for some very shady dealings with some very suspect locals we met down at the carpet bazaar. Sounded like a good plan to me, so off we went!!
The bazaar was amazing, well worth the walk, and one of the only few sights we'd end up seeing in Iran.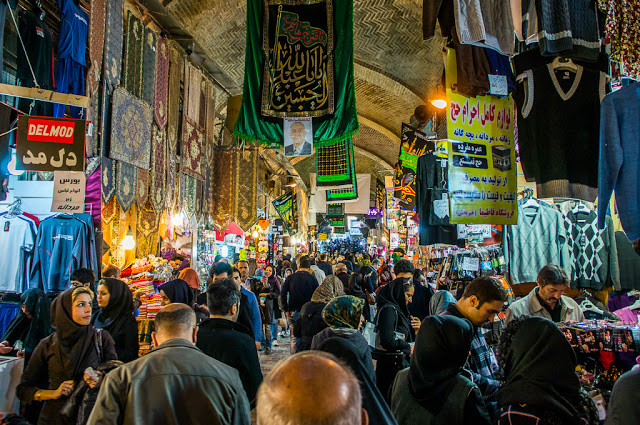 We managed to find some agreeable carpet merchants, but both agreed that the situation was beyond dodgy and we'd be better off not doing the deal.
This still wouldn't have been too much of a problem, except that I spent US$100 more than I thought I would just getting into the country, and Sam had no money at all. I had enough Iranian Rials on me to get us to the border and into Turkey, but not to pay for the room and Sam's airport pickup. Not even close.
Enter this guy: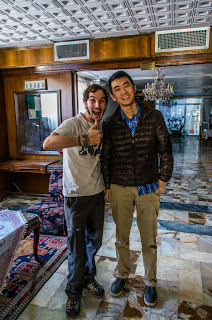 He was a Chinese business traveller staying at the same hotel we were. He overheard our predicament and offered to loan us some cash. He pulled out a US$100 note (the smallest he had!), and said we could just transfer him the money at a later stage. I asked if Paypal would work, and he said that would be ideal. The only thing he took off us was my email address, and wished us a happy trip. What a legend!!
Minus $50 to the hotel later, we had cash in our pockets and were on the move. We took a shared taxi to the Arzjantin bus terminal and booked ourselves a ticket for Tabriz, heading for the Turkish border. It was probably the most comfortable bus I've even been in, even more comfortable than the sleeper buses in Vietnam. Each seat was like an individual lazyboy, and I drifted off to a great night's sleep.
Day 3:
In the morning we woke up to find ourselves in Tabriz. I'd planned to do a bit of sightseeing around the city, but I was bleary-eyed and still tired, and managed to book us straight on a taxi to the border crossing at Bazargan.
Oh well, sorry Iran, I gave it a good shot!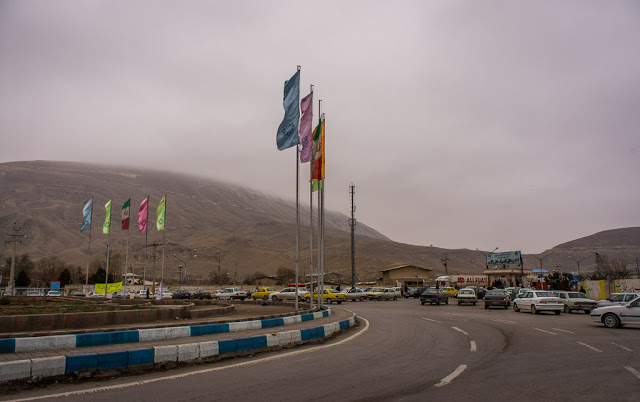 The border crossing – colder than it looks….
The taxi dropped us at the border crossing, we got our passports stamped for our Iranian exit, and then the fun started.
The long, cold road into Turkey
We left the warmth and safety of the Iranian border building, and stepped out into some of the coldest temperatures I can remember experiencing for a long time, probably about 4 degrees. We got in the queue for the border control and waited.
And waited.
And kept waiting.
Since we had no money, we hadn't eaten since lunchtime the day before, and were getting pretty cold. After two hours of standing in the freezing cold I was starting to lose sensation in my toes. We had been walking/jogging up and down the little courtyard we were stuck in, and put on every bit of clothing we had on us. After all the things I've been through, ironic to die of exposure within throwing distance of warm, dry, buildings filled with food vendors.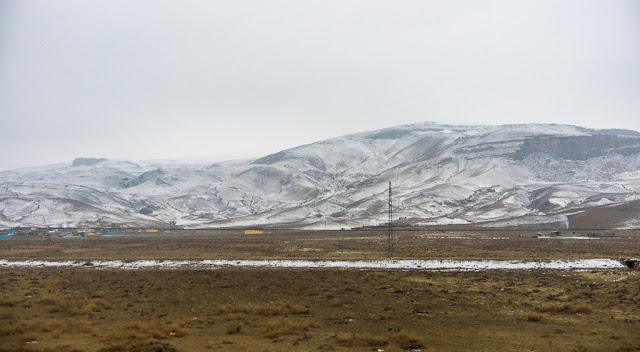 The road into Turkey
I asked what the holdup was, and was told that it was a "system error". Eventually we managed to convince one of the guards that we were actually going to die, and he let us stand in his little guard hut. Sweet salvation! – this 2x3m box had a heater, and I can't even describe what a relief it was to get in there. Finally after waiting 3 hours, the line started moving and we left the box.
Big mistake. I think one or two people got through and we went back to waiting. But now I could feel my toes so I was pretty happy. Just when we were getting back to freezing to death again, the line started moving at an excruciatingly slow pace. By the time I got to the window my teeth couldn't stop chattering. Blessed relief was only a stamp away, and then the guy told us he couldn't process our passports, and we'd need to go to the other passport window.
You have got to be kidding me!!!
Finally we get through and run straight for the duty-free shops on the Turkish side. I buy us some overpriced sandwiches and we just sit there just thankful to be somewhere warm.
We take the minibus to Doğubeyazıt, and waste no time finding somewhere warm to stay and a lot of food to eat.
Turkey, it's good to meet you. 🙂