It's COLD!! After our near-death experience at the border, I was thinking that things couldn't get much worse. But being raised in a country where it's the middle of summer at Christmas time, and it never snows, I was bitterly unprepared for the might of winter in Turkey.
I'm sure this is what everyone thinks of when they picture lovely Christmassy winters in their head:
That is entirely incorrect. This is actually what winter looks like:
We woke up in the city of Dogubeyazit to find the streets covered in lovely white powder. There's not too much to do there except catch the bus on to your next destination so we set about sorting out a bus ride. Turns out transport in Turkey is quite expensive, as they have one of the highest petrol taxes of any country. We settled on taking a minibus to Van, and then from there we'd hopefully catch a train on to warmer destinations.
Even though the snow is bucketing down and the roads are covered with ice, no one uses chains, and it's still standard practice to overtake trucks on blind corners. You have to respect driving skills like that – I don't think I would have lasted 5 minutes on those roads!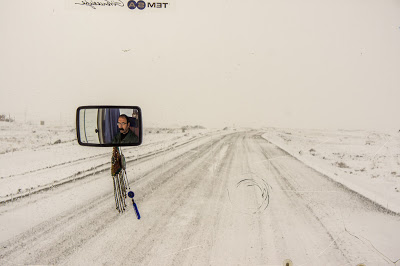 It's hard to see, but the entire windscreen is cracked. 😀
When we got to Van we took a wander around to look for a bargain hotel. Now I've done this in every country so far and it's been a piece of cake, but when your breath is freezing as it comes out your mouth, it definitely adds a bit of time-pressure to the whole process. Where in Vietnam I might have slept at the train station, there's no possible option of doing that here, and it's making it pretty hard to keep the daily costs low. The cheapest place we've stayed in so far has been about $13 each. Contrast that to the $4-5 a night I have been paying in every other country so far on this trip. It's time to start Couchsurfing.
There was no way we were paying the $40 to catch the bus 5 hours to Mardin, so we decided to take the ferry 4 hours across the lake (for $3), and then catch the train on to Adana or Ankara.
The walk to catch the ferry was cold.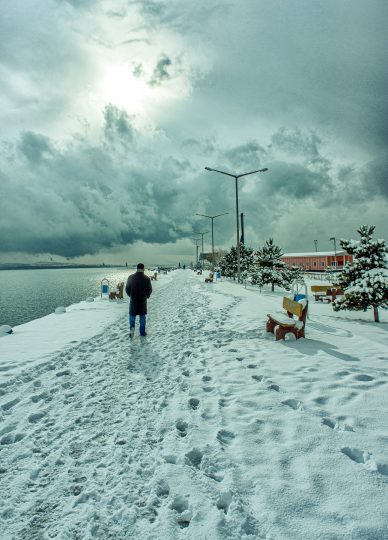 There was no one there when we arrived so we weren't even sure if the ferry was going that day (and there is no one who speaks English to ask), so we just plodded inside and waited. Eventually some people turned up who indicated to us with hand signals that yes indeed, the ferry was coming in a few hours.
At the right departure time, a tiny little boat with room on the back for two cars and a very small cabin turned up. We shouldered up our bags and I was envisioning an extremely cold next four hours, until another lot of hand signals told us that this was not the ferry, and we should just keep waiting.
THIS was the ferry: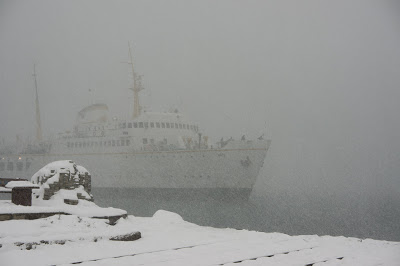 They docked, and spent the next hour unloading train carriages from the back. It was totally badass. We sat inside next to a lovely hot boiler, and taught the locals how to play some New Zealand card games.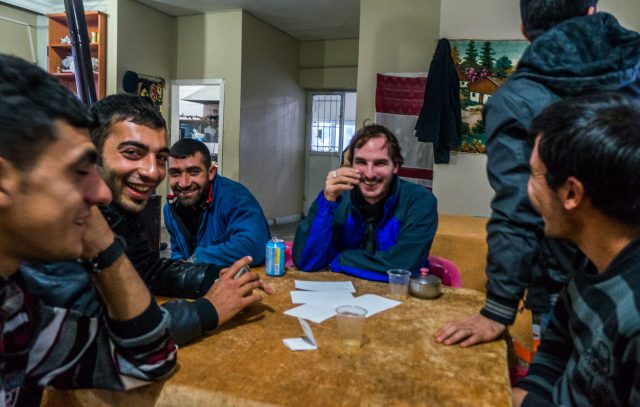 Eventually we jumped on and spent a pleasant few hours surrounded by freezing cold and pitch blackness.
When we arrived at Tatvan, it was freezing cold and pitch black. We didn't have a ride, so we hitched on our packs and trudged off for town. Once we got to the main road we started hitching and eventually a nice local guy picked us up and dropped us at a hotel.
It wasn't much, but it had two beds and a heater, and we took it gratefully. The plan was to catch the train off to Ankara today, but we'd been told it left at 2pm, and we found out when we got there that it left at 6:30am.
Tomorrow we catch the train for Ankara!!
I've finally got onto the Couchsurfing thing, been messaging a whole bunch of people in the towns we're going to, and got us some accommodation lined up for Istanbul. I've sent a bunch out to people living here, and hopefully someone has some floor for us to crash on tonight. No idea how long the train ride is to Ankara, but I'm looking forward to it, be nice to see some scenery going by while staying warm!!
Intrepid travelers, we. 😀